2A. Job Families
Grouping of salaries is the first element in the structure where each group requires an administration attention as per the similar rules. But here, there are various questions of how to do groupings like:
Whether grouping shall be done logically considering job holders
Whether to group according to the common interests
Criterion of performance
Memberships with trade unions
And many more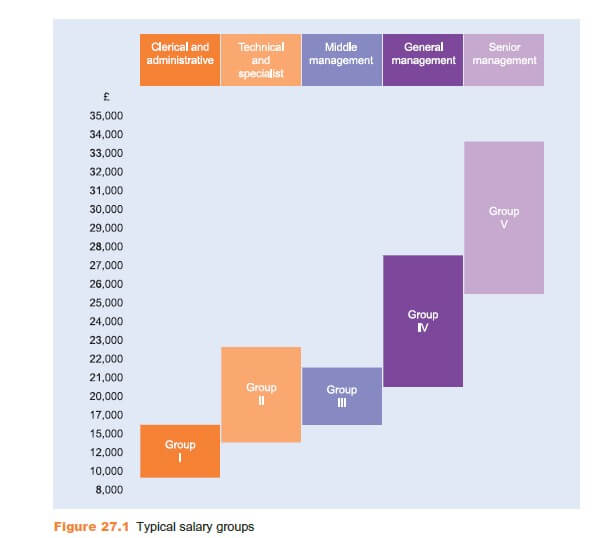 In order to group the classification in the best manner, Massey illustrates the grouping under seven way of typical division:
Each of this family is then regulated under each group with minimum and maximum levels which must be decided by the payment administration from the scratch. Each grouping of the family will include the minimum and maximum level of salaries which indicates proper level which also includes exceptions. Exceptions must be identified by the administration and must prepare a proper method of job evaluation on that particular case for claim in future, if necessary. Such employees are marked as red circled, and the management must be prepared with the explanation of the same.
The salary groups of an employee changes with time when they are being promoted in the company and recognized as major elements in the grouping. The salary growth of an employee remarked in the grouping procedure as well in order to access fair chance of promotion given to the desired candidate. The pay scales might overlap for distinct job families as each grouping has different level of scaling and steps which will be unique and different for each grouping. Through such a choice might create dissatisfaction among the staff in order to reach out to administration but the hierarchy cannot be changed just to keep the employee happy. Every employee must work on to jump into another group which is possible when they prove their caliber and potential in the firm.
When an employee switch from one family group to another, the ladders and steps associated with the same are also switched which entirely relies on their responsibilities in that particular group. Employees might not be disclosed about each grouping style as these families are created internally by the payment administration department under the authorization of the proprietor. In every case of job family, the responsibilities and pressure is different which makes the relativity of the position quite objective and employees are informed about their roles in an open pattern.
Switching from one family to another in entirely based on the performance of the employee and on which grouping do they move. They must not be discussed about each grouping, but at the time of switch they are informed and discussed about the job roles and responsibilities which are focused under their group.
Links of Previous Main Topic:-
Links of Next HR Management Topics:-